Farewell, Dear Chris
2nd May 2010, Delhi – on my lonesome.
Our six weeks together, and Chris's first real taste of travelling, were drawing to an end. The last leg of our trip saw us visiting Jaipur, Pushkar and lastly Delhi, where Chris flew home from – leaving poor little me on my own in the big city!
Our time of tiger spotting was at an end, and Chris and I had entered the final stage of our time together. Our next destination was the famous pink city of Jaipur, just a short (two and a half-hour) train ride away. We had treated ourselves to a bit of luxury here, in the form of Umaid Mahal hotel. Rajisthan is the best state to upgrade accommodation-wise, as it has a number of heritage hotels that can work out as great value. We'd booked Umaid Mahal online, having been bowled over by their website, and were really looking forward to our stay. That said, we'd had a few disappointments already in India – hotels that failed to live up to their online image – so we wondered what would await us.
As expected a taxi driver pounced upon us at the station, keen to show us his book of tourist recommendations in the hope that we'd hire him to do some sightseeing. He took us to the swankiest hotel, and we took his cell number before lugging our packs into reception. For once it looked like the website had understated the hotel's assets – the exterior was highly decorated and we felt like we were entering a palace. We excitedly handed over our reservation printout . . . to discover that the taxi driver had taken us to the wrong place – we certainly wouldn't be hiring him again! The good news though was that we were staying at the sister hotel, and after a short, free ride in a rickshaw we arrived at the right place, which was just as impressive. Our bags were ferried to our room by the Nepalese porter, and we had big grins on our faces as we entered the large black marble room. The corridors were adorned with numerous Raj-era prints, and we took some time to explore, enjoying the tasteful furnishings.
We went out in search of water and found an actual supermarket – I've never seen one in India before! It was quite small, but we were both quite excited, and bought a few drinks and munchies. I think that we may have been the first white customers they'd ever had, as the staff seemed equally excited by our presence. On our return we had a quick dip in the ice-cold pool (one of the Nepali staff spotted us and came out with a net to fish out a couple of leaves that had fallen in – such service!), before heading to a small stall outside the hotel for some chai. We sat with a few rickshaw-wallahs, chatting with them. It's out of the tourist season right now, so fares are hard to come by, and one of them had come running towards us earlier when we'd popped out, introducing himself as Super Salim. They were nice guys, and we sat with them for over an hour before returning to the hotel for dinner. We ate at the rooftop restaurant, were a traditional Rajisthani band complete with dancing girls were doing their thing – with the usual hand out for tips at the end. Everyone wants backsheesh over here, be it in the form of tips, bribes or alms.
The following day we got a rickshaw to edge of the pink city and had a wander around inside, enjoying the quieter back streets full of goats and friendly children. I will admit to being a little nervous at times, as it was in Jaipur that I was bitten by a dog on my last visit. I know they say that lightning doesn't strike twice, but I couldn't help but freeze a couple of times when I had to pass a barking mutt. The main streets were a hive of activity, shops spilling out onto the pavements and the edges of the road taken up by stall holders selling fruit and veg. The grubby-pink painted covered walkways made navigating rather tricky, but we did eventually find Hawa Mahal, palace of winds, which is Jaipur's most famous landmark. It was behind the stone latticework that the women of the court used to observe processions in the street from, back in the days of purdah when they had to keep hidden from the world.
Next we were off to the city palace, where a guided audio tour was included in the ticket price. It was very interesting, although we had to laugh when it took us into the "friends of the palace" section, where local artists practise traditional techniques, and told us we might like to buy something. They never stop trying to part you with your cash, these Indians! Due to a combination of the heat and the fact that Chris's time in India was drawing to an end and we wanted to relax, we curtailed our sightseeing there and returned to our luxurious room.
There were just two destinations left on our Indian expedition, and we set off for the penultimate one the next morning: Pushkar. I'd been there before, and found it to be a beautiful place, with a really special feel to it. Watching the sun set across the lake whilst listening to the sound of drums was one of my most enduring memories of India, and I'd been looking forward to sharing the experience with Chris. One of the rickshaw-wallahs in Jaipur had told us that there was no water in Pushkar; the lake had dried up. I'd hoped he was exaggerating. He wasn't. The fact that Pushkar's lake was dry was not really news – it's been like it for a year and a half, thanks to failing monsoons. Had I been a little more efficient in doing my research I would no doubt have been aware of this, but there we go!
Dry lake aside, Pushkar's still a pretty cool place to hang around in. There's not an awful lot to do (expect dodge the pretend priests, musicians and chappatti kids all after your rupees) but chill – which suited us down to the ground. We'd been going full pelt for a number of weeks, and I didn't want to send Chris home totally exhausted; he'll get back in that state soon enough once he goes back to work. We stayed in a pretty crap guesthouse called the Shree Palace – it's one to avoid if you're heading that way. The staff reached a new level of laziness there, and didn't seem to want to have to deal with any customers at all . . . strange then that they kept intercepting them on the bus and bringing them to the hotel. On the plus side, we renewed our energy levels somewhat, and got to meet a talking dog by the lake.
We had one more train ride to take together, an overnighter to Delhi. First though we had to catch the bus back to Ajmer from Pushkar. We'd been given a bum-steer from the guys at the guesthouse, and walked with our packs to a bus stand that had plenty of cows but no buses. The chai-wallah put us right though, and told us where we could catch the bus. It was already very full when it pulled up, and we were told to pile our bags onto the spare wheel, which lay behind the driver's seat. I perched precariously on top, while Chris joined the ten or so men squeezed into the small space next to the driver. We stopped to pick up another twenty or so passengers, then headed down the hill and round the bends to Ajmer. There was a bit of a curfuffle when we got off, but we managed eventually to get a cycle-rickshaw to the station.
The train journey, which Chris had not been looking forward to, turned out to be our most relaxed journey yet. There were no extra people in our carriage, plenty of room for us and our belongings, and we both had a fair amount of sleep. We alighted at Sahai Rohilla train station in Delhi, and had to pay Rs100 for the 4km journey to Paharganj, the area near New Delhi Train Station, which is where most backpackers gravitate towards. I'd booked a hotel online, being naively impressed by the website (tsk tsk, when will I learn?!). It didn't quite live up to the hype though (although it wasn't too bad, not for the capital) – one odd thing was that they had promised us a room with an outside window, when in fact the hotel had none. Many Indians have a tenuous relationship with the truth, to say the least. Anyway, they had a sister hotel a couple of doors away, which was a little more upmarket, having rooms with air con and fridges. The stairs up to the fourth floor were a killer, and the air con unit was a little eccentric; half the room was freezing cold while the other half remained rather warm.
We'd been hearing for a while that Delhi resembled a building site, and we soon found that people weren't wrong. I remember Paharganj as being crowded, chaotic and dusty; it's still all those things, but now you have the added risk of a load of rubble being dumped on your head as you dodge past the pedestrians, bikes, rickshaws, dogs, etc.. Everywhere you look there are men with sledgehammers knocking walls out, people throwing concrete and debris out of upstairs windows . . . I say windows, but in fact in many cases the front of the building has been knocked down, so it's just half a room left on the first floor. The rest of Delhi is much of the same – we wandered down to Connaught Place, supposedly a sophisticated shopping area, but now looking more like a bombsite. Much of the renovation is in due to the Commonwealth Games, which come to Delhi in September this year. I wouldn't put money on the work being finished in time though.
We had three nights together in Delhi before it was time to say goodbye, and didn't plan to do an awful lot of sightseeing, just enjoy each others company. In line with a number of my dubious recommendations this trip, I announced that the Red Fort and Jami Masjid were the top draws in town, and suggested we visit them. With regards to the Red Fort, I don't know what I was thinking. I've been there before so surely I should have remembered it as being a big disappointment – nowhere near as impressive as Agra's, in my mind at least. Any of the sections of interest were closed to the public, so we were left wandering around the rather dull gardens. It looked like many of the precious stones inlaid into the marble had been pilfered, so maybe this was why the public was barred from the places that were intact. We both agreed that we'd have been better off saving the Rs250 entry fee and simply taking a couple of pictures of the exterior, which was undoubtedly more attractive than the interior. Oh well . . . I would say you live and learn, but obviously I didn't!
The Jami Masjid (Friday Mosque – India's largest) was more pleasant to stroll around . . . or at least it would have been if we'd not been given nylon wraps to put over our clothes. Being a mosque, we had to remove our footwear – which is fair enough, although the floor was hot enough to scorch the souls of our feet. We'd got the metro there – which was wonderfully cool, clean and modern. (I say we, but Chris missed the first one, being to slow to get on before the doors closed – I knew it would happen sooner or later, that his casual stroll would see him missing a train somewhere along the line. Fortunately it was just a case of me jumping off at the next station and waiting for him to arrive on the next train.) After visiting the mosque we walked to a different metro station, through the frenetic streets of Old Delhi, which was quite an experience in itself.
That really was the extent of our tourist activity in Dehli, the rest of the time was spent reorganising our packs – me offloading some of my stuff on Chris and reclaiming other items that he'd been kind enough to carry for me. We ate almost exclusively at the Everest Bakery, a favourite of mine from my last visit, and must have drunk almost our own body weight in chai there. We wandered up and down Paharganj, marvelling at how some of the buildings were still standing when half of the supporting walls had been knocked down. We repelled offers to buy hashish, head massagers, jewellery and a laser light that could allegedly be seen ten kilometres away. We relived some of the highpoints of the trip, the people we'd met and strange things that had happened along the way, enjoying our last days together.
Then the day that neither of us were looking forward to arrived. Chris's was flying home. We'd arranged a taxi the previous day from the Everest Bakery, but as usual in India nothing goes to plan. The guy never showed up, but the lovely waiter nipped down to the station and found a driver who'd take us for Rs300. I'd already switched my bags from Star Paradise to Star Palace (where we were meant to stay originally), so I helped Chris load his bags into the waiting taxi. We set off, horn honking constantly as we negotiated our way past the pedestrians, motorbikes, rickshaws, autos, cars, handcarts and cows, away from the Paharganj district. We arrived half an hour before Chris was due to check in, and grabbed a trolley (surprised to find that these were free, and there was no one demanding backsheesh for their use). I'd planned to stay with Chris for as long as I could, but only passengers were allowed in the terminal, so we had to say our goodbyes outside.
It was very hard to part from the wonderful travelling companion I'd had in Chris. I'd been apprehensive beforehand as I normally travel solo, but I'm pleased to say that travelling with Chris was very enjoyable, and definitely enhanced my experience. His friendly, outgoing nature saw him striking up conversations with locals and travellers alike wherever we went. It was also nice to have someone to share the tough situations with; an ally against the frustrations of India. There were times when I felt guilty for bringing him here – it's not the easiest country to travel in, especially for a first timer, but he coped admirably . . . and if he can survive India, everywhere else will be a breeze. So now I'm back to flying solo. I know I'll be fine – I've done it so many times before – but it won't be as much fun without Chris by my side . . . or dawdling twenty yards behind discussing cricket with an Indian, as was more usual! Here's to the happy memories we have, and to more adventures to come. Thank you Chris.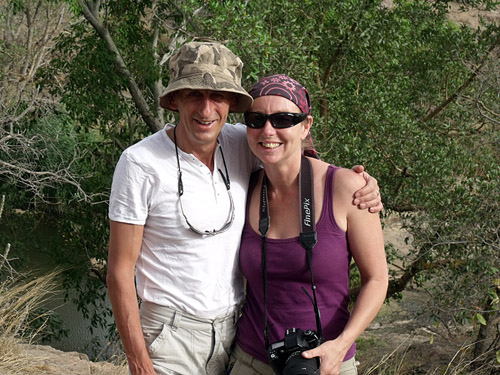 ---
If you're looking for great stock images, I've got thousands online - check them out!