Yangon
24th October 2005
I'd stayed up late watching television (the addiction is as strong as ever, even after months of cold turkey) so I slept in again on my last morning in Bago. When I did get up I went to the tea shop next door, looking forward to a leisurely breakfast over my book. As soon as I sat down a girl who had Indian features but pale skin joined me. She was very intense, and began interrogating me on a number of topics. She also offered her services should I wish to buy any souvenirs, or tour the city, but I didn't feel that she was a tout. I did ask what her job was, but she answered by telling me what time she gets up, that she then has breakfast, before arriving at work at seven thirty...but not what she did for a living. I think she was just someone keen to practise her English; or possibly a nutter. Either way, I hurried through a single cup of tea and long doughnut, instead of the two that I had planned, made my excuses and left.
I didn't have to go far to catch a pickup to Yangon - there was one just outside the hotel as I left it. It was pretty full, so I had to stand at the back, holding on to the roof rack. The conductor told me in sign language to hold on tight, and I certainly did as we sped away. I was very relieved when a kind man gave up his seat for me a couple of minutes later, and I perched on the end of the bench seat, outside of the vehicle. A woman sat on one of the little wooden stools placed in the aisle was breastfeeding her young child - a potentially painful thing to do in a pickup, I would have thought. I twisted round in my seat to catch a last glimpse of the Myanmar countryside - not that there was much of it to see from the tree-lined dual carriageway between Bago and the capital. The guard rail at my back dug awkwardly into my ribs, but I could console myself with the thought that this would be my last bruising journey for a while.
Originally I had been going to get the train to Yangon, so my journey would terminate in the centre of the city; I didn't want to catch the bus, and arrive at the Highway Bus Station, twelve kilometres or so out of town. Then I figured that pickups would go right into the city, after spotting a central terminal for pickups to Bago on the map of Yangon; but they don't - or at least mine didn't. No great drama, though - they dropped me near a bus stop, and told me I needed bus 51 to get to Sule Paya. The bus, when it arrived, was nowhere near as crowded as the one I had previously caught from the Highway Bus Station, possibly because it was a Sunday. It was still pretty busy though, but I worked my way to the back and propped my pack up against a defunct rear door.
An 18-year-old boy started talking to me, asking if I had ever been to the British Consul. I replied that I had not, and he told me that was where he was going. He said he was going to study engineering at an English university in Newcastle upon Tyne, and that he had done O-levels at the British consul, and would next be doing A-levels. I thought this a little strange, as I was under the impression that O-levels had been scrapped a number of years ago in favour of GCSEs, but I didn't say anything; maybe they've resurrected them. It soon became obvious that the boy didn't actually want a conversation with me, but rather to hear his own voice. He would ask me a question ("Is it true that some engineering graduates have difficulty finding work in England?" was one, "What is the most popular subject studied at university today?" was another), but as soon as I began to answer it, he would interrupt me with different question. Fortunately he got off the bus just before I found it necessary to give him a slap.
The conductor wouldn't let me get off the bus at the place I wanted to be dropped (I'd forgotten that this was a bus that halts only at bus stops, not a pickup that will stop anywhere) so, once I had pushed through the throng trying to shove their way onto the bus, I had a hot ten minute walk on Yangon's appalling pavements to get to my chosen accommodation. I had the Pyin U Lwin II guesthouse recommended to me, and it is a nice, teak-panelled place - though the stairs up to reception nearly killed me. It's the most expensive place I've stayed in all month at $7 a night, and only has air-conditioned rooms. It' strange that I find myself in a third consecutive air con room; I hope I don't get a taste for it. It's also the third place on the trot that doesn't do breakfast, although that isn't a major problem in a country full of tea shops.
I've not done an awful lot since I got here. I went to the Internet place that I'd used last time, where they gave me a computer with a dodgy mouse that drove me to distraction. I got absolutely nothing done in half an hour, and got overcharged for it to boot (fortunately the charges are low in the first place, so it didn't cost much). I left grumbling to myself, and walked around until I found a little place in a side street near to here that wasn't too expensive. It was a bit slow at first, but did at least let me access my website, and then it suddenly got really fast, and I was able to upload all that I needed to in record time. I told the guy how nice it was to find a fast connection, but he expressed surprise, and said that it was not usually quick - the Internet fairy must have been smiling on me. I was unable to access gmail though, which means that I've not been able to meet with the monk from Shwedagon, who had emailed me a couple of weeks ago, saying he hoped we could meet up when I returned to Yangon.
Other than that, and sorting through a few photos to go on pbase once I get back to Thailand (you'll be able to see them here once they are on), I've been having bit of a walk around (trying not to fall down any drains), enjoying my last hours in Myanmar, and reflecting on what I'm going to miss about the place. I'll miss the tea shops, as I think sipping two kinds of tea whilst indulging in a pastry or two is a most civilised custom; if someone just introduced the shisa pipe to the Myanmar tea shop, then they would be perfect. I shan't miss the food, I have to say. Whilst I have had the occasional tasty meal, they've been few and far between - I've even cut down to two meals a day for most of my time here, less on big travelling days. I've not been impressed with the Indian meals I've had here, either - which is unfortunate, as I think they are probably more authentic than the meals I've had in Indian restaurants at home, or in the rest of South East Asia; this does not bode well for the next six months.
I'll miss the super-friendly people, and kids sidling up to me and asking me to take their photo. On a purely superficial level, I will miss having some eye candy to look at. As much as I love the Thai people, their men do nothing for me, and I can say the same about the other South East Asian countries I've visited; okay, so some of the monks in Laos were pretty cute, and the Thai traffic police in their tight little uniforms are quite nice, but on the whole - nothing. Here, however, where there are a wider variety of looks, I've found that I've seldom been short of something nice to ogle at. I think the longyis have got something to do with it; there is definitely something sexy about a man in a longyi, I shall miss them. I think it's just as well I'll be leaving soon or I might be in danger of becoming a sex tourist.
Yes, I'll be sorry to leave Myanmar - and I'm very glad that I decided to come. It'll go down on my list of countries to be revisited, but it won't be for the scenery, although there's some great stuff around; and it won't be for the temples, even though there are thousands of them; nor will it be for the interesting culture, or the colonial architecture. No, when I come back, it will be for the warmly welcoming people, with their big smiles and generous hearts; that's what I'll remember Myanmar for.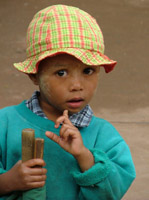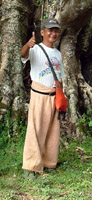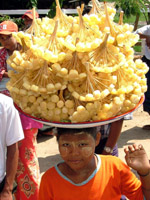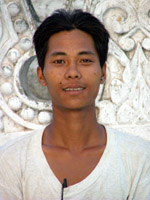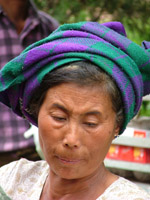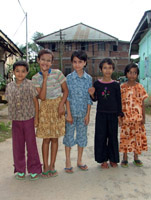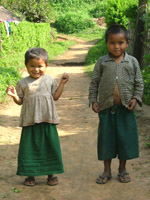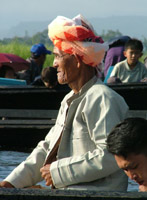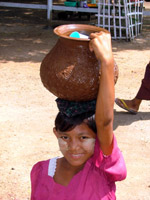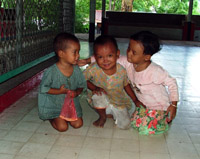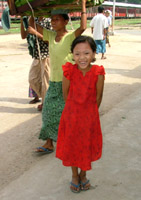 ---
You'll find a whole lot of old flannel in this website; tales from all over the world. If there's anything specific you want to read about, you may find it useful to use the search button below.
[ View Guestbook ] [ Sign Guestbook ]
Get a FREE guestbook here!


Visit SerenityPhotography.co.uk, where you can buy beautiful pictures from around the world...all taken by yours truly!
---