Divine Dhankar
8th July 2010
Today I have been mostly walking - about 32 km to be precise. Not bad going considering a party of eight noisy Israelis in neighbouring rooms kept me awake until gone three this morning.
I wanted to visit Dhankar Monastery, so caught the 0730 bus, getting off (or getting down, as they say here) at Sichling. Another foreigner alighted there too, Lori from Italy, so we made our way up to the tiny village of Dhankar together. We had been dropped at the short route - which my fellow passengers had assured me was the easier way - rather than the village gate, where the paved road leads up from. When Lori pulled out a pair of hiking sticks I realised she was a more seasoned trekker than me, and followed her lead. She kept the pace slow and steady, and we made our way up the rocky path to the village, catching tantalising glimpses of the monastery between giant fingers of rock along the way.
Dhankar Monastery, or Gompa, perches precariously atop of ever eroding rocky outcrop overlooking the Spiti Valley. It dates back 1200 years, and is currently in danger of disappearing as the rocks crumble, prompting a "save Dhankar Monastery" campaign - which I find a little strange, considering that one of the main principles of Buddhism is accepting the impermanence of all things. The village sits at almost 4,000 metres high - a big climb from the road, but so worth the effort!
Dhankar village is a collection of square, whitewashed buildings that nestle comfortably in a rough crescent shape, overlooked by the ancient gompa. As we approached we could see a large number of men and women working on the far side of the village, shifting rocks to form walls to protect their dwellings from landslides; community spirit at work. I was gasping for a cup of chai, but there was no obvious chai shop around - or any other sort of commercial venture, just the residential buildings. We made our way up to the monastery, leaving our boots outside and ducking our heads as we entered. Inside the mud and straw building it was cool and dark. After climbing some steps we emerged into a small courtyard, where we were met by one of the two monks who lives at the old gompa; a further fifty live at the new monastery across the village.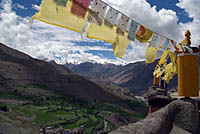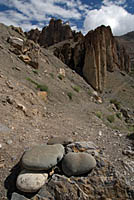 We paid out Rs25 entry (one thing I love about Himachel Pradesh is that it doesn't extort foreigners when it comes to entry fees, unlike India's other states), and were shown into various rooms with religious paintings on the walls, and old, crumbling thangkas hanging up. No photography was allowed inside the rooms, but the monk said we were free to take pictures from the courtyard, and invited us up on the roof - where prayer flags fluttered, and the views were sublime. I was a little surprised to see a satellite dish up there though . . . maybe the monks need it to watch religious broadcasts . . . hmmmm.
Leaving the monastery we walked around the rim above the village, finding a guesthouse which supplied me with my much-needed tea, and a bottle of water. From there we followed the path to Dhankar Lake - which was still quite a bit higher than the village. The thin air and exertion got to me a bit, and I urged Lori to continue ahead while I stopped for a rest. I'd been unable to catch my breath as I walked, and my pulse raced. My head was pounding, and the painkillers weren't helping much. When I started to feel dizzy too I thought it better to take a break than risk tripping. I sat for five minutes taking in the scenery, the steep valley walls and the snow glistening on the far-off mountaintops. I soon recovered, and continued on my way. The path was more level now, and easier to traverse, and before to long I caught site of the peaceful lake.
The area may have been an old volcanic crater; it certainly had that appearance. The ground was slightly stony, with a few hardy plants and flowers poking through, including small gorse bushes. I caught up with Lori, and we walked around the lake, past a small Buddhist shrine with the obligatory prayer flags, to where a lone tourist sat. He was Nikos the Greek, and had been staying in a homestay in Dhankar. He'd climbed up to the lake at seven that morning to enjoy the peace and quiet - and it was quiet, absolutely silent, save for the occasional plop of what sounded like large fish breaking the water's surface. We sat and enjoyed the environs for a while before beginning our descent, constantly wowed by the spectacular surroundings.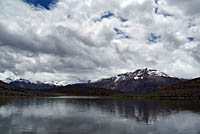 I'd intended on catching the bus back to Kaza, so chose the road way down, while Lori retraced the path we had ascended by. I remembered from my outing to Tabo, that the return bus has passed by Sichling around three thirty, so I figured if I made it to the road before then, I'd be fine. The road I walked on wound around numerous hairpin bends, covering a distance of ten kilometres to reach the main road. I adopted a postman's pace, stopping every now and then to take pictures (you know me!), and cut a few corners along the way, to ensure I'd be down in plenty of time. It was nice to be able to plod along the mostly well-paved road and enjoy the view rather than constantly watching my footing, which is why I'd chosen that route down.
I got to the bottom in plenty of time for the bus, so decided to walk a way along the road, enjoying more of the views at a slower pace than in a vehicle. I walked and I walked, wondering where the bus could have got to, but not worrying too much about it - this is India, and schedules are loose. Almost an hour into my journey along the road I met a group of four women, sitting by the road and playing with each other's hair. They asked if I was going to Kaza, I said yes, by bus, and they said five, holding up five fingers to confirm the number. I wondered if that meant five minutes (though suspected that was far too precise an estimate to be likely), or five o'clock. Either way I continued walking. Half an hour later I realised it had to be five o'clock that the bus was due, as none had come along so far; in fact hardly a vehicle had passed me; the area is wonderfully remote and under populated.
I plodded on, occasionally passing road workers - some of whom seemed so very old to be doing such vigorous manual labour. There was the odd herd of goats, and the very occasional vehicle - invariably travelling in the opposite direction to me - but mostly just me and the open road. I was a little concerned that the bus might not arrive, and I'd have to walk the entire way back to Kaza. When a milestone announced that the town was 19km away I figured that it was doable . . . barely. I'd be on my knees by the time I got there, as I was already getting stiff and sore, and it wouldn't be far off dark, but I could make it if I had to. Spiti feels very safe, and I had no worries on that score. At around five o'clock I came across the one and only village I'd seen; a small group of dwellings, with children playing and goats bleating. There was a modest shop where I bought more water, and was told that the bus was due through at half past five, which tied in with what the women had told me earlier.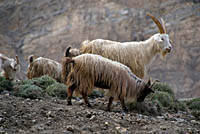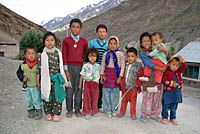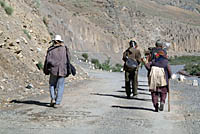 Having walked all that way, I really wanted to reach the bridge to Pin Valley, which I knew couldn't be too far ahead (although admittedly I'd been thinking that for an hour), so I continued on my way, rather painfully now. Half an hour later I'd reached my goal, spotting a lone figure sitting near it as I approached. It was Lori, who had arrived at the bridge some ninety minutes before, and was losing hope of there being a bus. The milestone informed us that it was another 15km to Kaza - and looking in that direction we could see that the road inclined in front of us. I told her that the bus shouldn't be too long, but after another half an hour we gave up, and cadged a lift from a pickup truck heading into Kaza, the two of us together feeling safe to do this, where neither of us would have been comfortable hitching alone. We got back at five, tired but happy after an interesting day out.
---
[ View Guestbook ] [ Sign Guestbook ]
Get a FREE guestbook here!
If you're looking for great stock images, I've got thousands online - check them out!


Visit SerenityPhotography.co.uk, where you can buy beautiful pictures from around the world . . . all taken by yours truly!
---