Pyin U Lwin
5th October 2005
I want to take the train over the Gokteik Viaduct, which sounds pretty spectacular, so I had two options: either I could catch the 0435 departure from Mandalay, or I could travel by road to Pyin U Lwin and catch it from there at the more sensible time of 0830 (or later, if it's delayed). I am not a morning person, so I chose the latter. I dosed up on bananas at breakfast, and waited a while afterwards to make sure it was safe to travel, and I'm pleased to say that my stomach did not cause me any embarrassment during the trip.
I don't know whether it was down to all the recent exercise, but my pack felt pretty light this morning as I carried it the short way to the central bus centre; maybe I've left something vital and heavy behind. I saw a pickup pull out of the lot as I was walking towards it, which then stopped to allow a nun to board. The conductor spotted me, and ran towards me, to see if I was going to Pyin U Lwin. After yesterday's fiasco, I made absolutely certain that I was going to the right place. I have a mental block on the name of the town, and find that I just cannot pronounce it. I think they had a similar problem back in colonial times, as the town was renamed Maymyo, May-Town, after a Colonel May, and the name is still used today.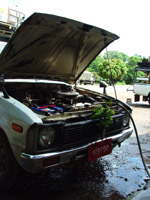 The conductor literally threw my bag on to the roof (maybe it really is lighter), and told me his name, which sounded to me like Two-Egg Joe. The benches inside the truck (they're the same as songthaews, with two long seats facing each other) extended past the end of the truck, with a metal backrest curving around to keep the passenger at the back from falling off. The system works; I know, because I was that passenger, and I never fell off. Two-Egg Joe suggested I sit there, outside, so I didn't bang my head on the low roof, as I did when I tried to squish up inside the vehicle. For some of the time Two-Egg Joe stood at the back, with the knot of his longyi pressing into my shoulder (at least I hope it was the knot), but whenever possible he'd move out of the way so I could enjoy the view.
Maymyo is around 1,000 metres higher than Mandalay, so we had some climbing to do on the journey, mostly at the beginning. I would have liked to have taken some photos, but I felt it more advisable to concentrate on holding on, especially when we were accelerating uphill. After an hour or so we stopped for liquid refreshments; the car was thirsty, and needed more water in the radiator (it joined a number of other vehicles doing similar). The nun took me under her wing, and bought me a tea and a biscuit - we had an argument over who paid, but she beat me to it. She didn't have a word of English, but that didn't stop her from quizzing me about something or other. She probably wanted to know why I was travelling alone; she seemed concerned.
When we arrived I was accosted by a man from Grace Hotel 2, which was just across the road, who persuaded me to have a look at a room. It's a little steep at $5, but it's quite big and has attached bathroom with hot water, so I went for it. There's no fan, as it's not necessary here; the air is much cooler, and wonderfully fresh. That's one thing that I find you don't so much notice going into a humid environment, as coming out of one: crisp, invigorating air. You fill your lungs with it, and can almost feel the oxygen flooding into your body. I like the heat, and prefer wet heat to dry (I find people always have a preference, one way or the other) - you just have to get used to sweating copiously, then it's fine - but it is nice to breathe that bracing air that accompanies more temperate zones.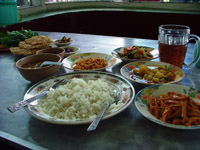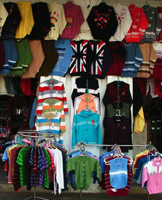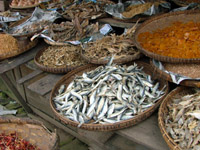 Once I'd settled I headed out for some food at Family Restaurant. I ordered a veggie curry, and was presented with a vast number of dishes. There was a plate of raw greens, mint and carrot; one of mixed vegetables; a heap of shredded papaya; a dish of potato curry; another of dahl; a stack of slightly spicy popadoms; a little dish of sweet chutney; and two bowls of sauce, one hotter than the other, for spooning on. This feast, which was accompanied by a pint mug of Chinese tea, set me back 750 kyat - about 60 cents.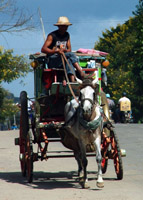 Afterwards I walked the meal off by strolling around the charming town. I could have taken transport in the form of a miniature stagecoach - they are in lieu of trishaws here. The painted wagons are quite a spectacle, although some of the horses pulling them were in a pretty sorry state. I passed some very English looking houses in my wanderings, the cool air making the town a popular hill station. I met an old lady who told me that her mother was English, and I could believe it too, as she spoke the language perfectly. We chatted for a while, and she told me that her only son had died the previous year of TB, and asked me for money, a little of which I gave her. I regret not talking to her for longer; she seemed an interesting character.
I had a poke around in a Cantonese temple, whose walls were topped with vicious looking glass, and walked past a walled garden where flowers were being cultivated. In the town the majority of the shops fell into one of two categories: sweater shops, or sweet shops. I stopped at one of the latter to buy some supplies for the train journey the next day. Opposite my hotel stands the striking Purcell clock tower (no pun intended), and behind that is the market. I wandered through the food section, which seemed to be attracting an inordinate number of flies, hit by smells of dried fish, then into the more pleasant aroma of frangipani in the flower section.
I admired the paya, which was covered in a mosaic of mirrors rather than the more usual gold paint, and went on to look at the mosque. One thing I've noticed here is the number of attractive mosques, even though Muslims are said to make up just 4% of the population each town seems to have at least one. There are also Sikh temples, churches, and in this town a Krishna temple also; religious tolerance is all the rage here. Before heading back to the hotel I came across a group of kids who clamoured to have their photographs taken, striking amusing poses and pulling funny faces for the camera.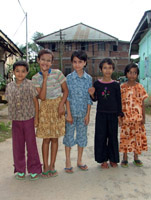 ---
You'll find a whole lot of old flannel in this website; tales from all over the world. If there's anything specific you want to read about, you may find it useful to use the search button below.
[ View Guestbook ] [ Sign Guestbook ]
Get a FREE guestbook here!


Visit SerenityPhotography.co.uk, where you can buy beautiful pictures from around the world...all taken by yours truly!
---