Lake Inle
17th October 2005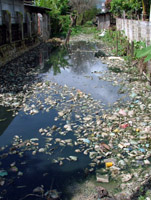 I wasn't too impressed with the town of Nyaungswhe - which so many others rave about. I thought It had a feel of a grubby border town about it. I think it is the dirtiest town I've seen, in a country full of dirty towns. The roads and verges are littered with rubbish, and much more is afloat on the canals. I feel that it should be instinctive not to litter; that if you live in a beautiful place you should want to keep it that way. There is plenty of evidence to the contrary, though, all around the world; I guess it must be conditioning rather than a natural urge that keeps people at home from throwing trash everywhere. I suppose too that one might feel there was little point in putting something in a bin, when somebody else will just empty that bin at the side of the road, or into the river; better just to chuck it straight on the floor, and cut out the middle man.
I'd planned a lie-in, but the Myanmar family who are in the room next door were hawking and talking from six o'clock, and I discovered that the wood-panelled walls are so thin that they might as well be absent. Breakfast is served from seven, so I was in the dining room promptly for the predictable breakfast of eggs, toast, coffee and bananas. An interesting touch here was that the 3-in-1 coffee was premixed and served from a coffee pot - the fact that it was white and sweet was a bit of a give away. My mission for the day was quite simple: to arrange a boat trip for tomorrow. It shouldn't be that difficult; people come here as a base to visit Inle Lake; the lake is the reason the town has tourists. I was unable to find anyone who spoke English here (the manager was out), so ventured in to town, trying the little travel agents that advertise boat trips; they all suggested arranging it through my guest house. I tried other hotels, hoping they may have guests, but none that I tried did. One said it could arrange a trip, and that the boat would cost 10,000 kyat - if I was the only passenger then that was what I would have to pay.
I came back here and waited around for the manager, who told me that yes, he could arrange a trip. The standard trip would cost maybe 12,000, but - as there is a festival on at the moment - he suggested an early start to travel to where the procession would begin at seven o'clock; this would cost around 18,000. I asked whether he could contact other guest houses, to see if there was a trip I could join, or other people who could join me. He said that was not possible; I should go out in the evening and ask people if they wanted to come along. I asked whether he could give me definite prices, he said he wouldn't be able to do that until four, as his friend the boat driver was out on a trip. I thanked the manager tersely and unconvincingly, and set out again in search of a better offer.
I had more luck this time: I tried a travel-booking place where a small man, with a random assortment of teeth sticking out in all directions, was most helpful. He explained that he had two trips he could offer: one at 8,000 and one at 10,000, the latter including a trip to the town where the festival was that day. He said he would ask around and see if other agents had anyone wanting to go, and told me to check back with him at six. Next I tried the Remember Inn, where I had some good news: they did have a trip going, with maybe four people already booked. The cost of the boat was 15,000 - which included seeing the festival - and that would be split between whoever went.
The manager of this place showed up around half-past five, confirming that the price was 18,000. I may be casting aspersions, but I suspected that he was trying to recoup the $3 I had managed to bargain off the price of the room ($1 a night). He did give me the news that another guest - an English man - had turned up, so I asked him if he wanted to come on the trip through the other guest house. We have an early start in the morning, at five o'clock...but I should be getting used to early mornings by now.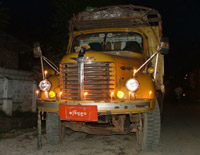 As darkness fell people all over the town began lighting little candles, and placing them on their steps and walls, even on the lorries that are parked along the road. I set off for a walk before dinner, admiring the twinkly lights, but feeling somewhat nervous about the fireworks that were being set off willy-nilly about the place. All around are young kids throwing firecrackers, or launching rockets into the street. A favourite trick is to surreptitiously drop a lighted banger as they walk or cycle along, so you have to keep your wits about you not to stand on one. It's all in aid of Phaung Daw U, which marks the end of the Buddhist Rains Retreat. I've seen a few orange lights moving sedately through the sky, giving competition to the stars, and remembered seeing them before, in Thailand. Oil lamps are attached underneath large paper balloons, and the heat makes them rise up. I was with my mother at the time, and we wondered what would happen when they ran out of fuel, and returned to earth.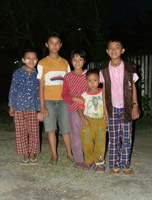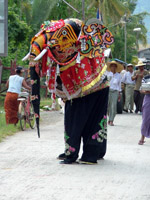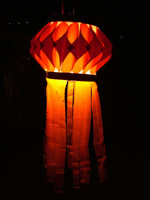 The festival manifests itself in other ways: in a temple near here a a tag team of monks are chanting around the clock, and will continue for a number of days, to make merit on behalf of the whole town. The chants are amplified (as long as the electric is on), but it's not too loud, and I found it a soothing sound to go to sleep to last night. I also saw a elephant today with a papier-mâché head. It was followed by a wagon full of instruments played by old men, and the two men inside the elephant danced with impressive co-ordination. It's a fun time to be here, and in the candlelight I forgave the town for its litter.
---
You'll find a whole lot of old flannel in this website; tales from all over the world. If there's anything specific you want to read about, you may find it useful to use the search button below.
[ View Guestbook ] [ Sign Guestbook ]
Get a FREE guestbook here!


Visit SerenityPhotography.co.uk, where you can buy beautiful pictures from around the world...all taken by yours truly!
---