Lake Inle
19th October 2005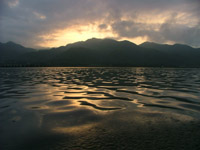 My day trip to the lake began well before dawn. The full moon shone brightly as Taro, the English guy staying at May Guest House, and I walked to Remember Inn. There we met Waso, from Japan, and the three of us were led to the banks of the canal where our boat waited. The narrow craft had wooden chairs in a row, each with a cushion and life jacket - which made a comfortable backrest. In the darkness we travelled along the four-kilometre canal which leads to Inle Lake, as the moon sank in the sky. Early morning fishermen cast their nets, as the sky grew gradually lighter revealing heavy clouds. Swallows skimmed the surface of the lake hunting for insects, then soared up to do battle with the breeze. The clouds thinned and turned pink, reflecting in the water as the sun rose behind the mountains. Other boats sped by, chased by plumes of spray; some were crowded with Myanmar people, sat on the floor of the small craft; pilgrims come to see the parade.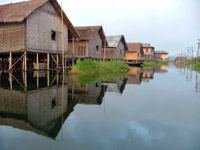 The boat slowed as we entered a town full of rattan, stilted houses, with plant pots hanging outside the windows. Men leaned out of their back doors, brushing their teeth, and waving when they saw us. Outside one house was a stilted pigpen; a cat sat on a boat outside another. The homes stood in neat rows, with power lines running along the watery street. Old women smoked cheroots, and small children paddled dugout canoes between houses. And yes, there were temples too. We reached the place where the procession would begin; this water-based community was to have a floating parade. Numerous long boats waited, each sporting yellow and white umbrellas, and crewed by men and boys dressed in white shirts and peach-coloured trousers, similar to Thai pants. They would be escorting a special float in the shape of a swan, which would carry four statuettes from the Phaung Daw U temple to the various townships on the lake, to bring them blessings. The images are covered with so much gold leaf that they look like golden blobs.
We carried on through the town, where the canal was lined with locals and pilgrims, eager to see the show. Our driver found us a suitable spot and we parked up and waited with the rest. After a while the sound of music drifted over to us, getting louder all the time. A boat of uniformed men proceeded the colourful boats, where the men rowed with their legs, as is the custom in Inle. Some were more enthusiastic than others were; a few had gongs, or other instruments, on board; on others men danced on raised platforms, and boys set off firecrackers. Then the main event came into view, accompanied by the teeth-grinding cacophony that passes for music in these parts. A boat approached with a shwe hinthe - a kind of golden swan - on the front, and, on a platform under a many-tiered roof, stood the four sacred lumps. I didn't get a clear shot of them, but don't worry, you're not missing much. A short way further, the fancy float pulled into the shore, for the blobs to be transferred to the local temple. We joined them, but our main reason for coming ashore was to use the toilet.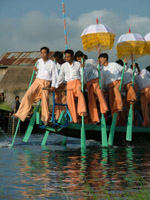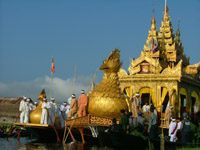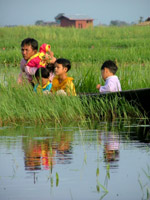 For sound effects, scroll down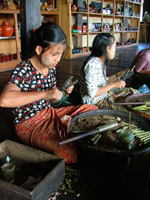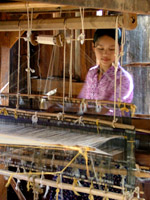 Our next stop was at a small, family weavers, where we were shown silk and cotton weaving, and also how the threads from the lotus plant are harvested, and turned into expensive cloth. Next we cruised through water filled with bright pink water lilies to a blacksmiths, where all manner of things were made. A man held a strip of metal in burning coals, fanned by another man on the bellows. Once the metal was red hot, it was placed over a block and up to four men at a time hit it with big metal hammers. Next was a visit to a cheroot factory, where girls sat cross-legged on the floor, chatting as they rolled the tobacco into leaf-wrapped cigars, sealed with a glue made from sticky rice. As at every stop we were offered Chinese tea and salted soybeans, and there was little pressure to buy. The day had a relaxed pace to it, and proved to be most enjoyable. We were cooled by the breeze rides in between stops, and I watched rainbows dancing in the spray at the side of the boat.
We visited a silversmith, and a paper-umbrella makers, and then stopped for lunch, to give the cameras a rest. Afterwards we set off to see a pagoda on an island, but the three of decided not to bother with that, and took a stroll along the riverbank instead. The last stop of the day was without doubt the cultural highlight - and it was the thing I'd been looking forward to all day: the Jumping Cat Monastery. Here - for reasons known only to themselves - the monks decided to teach the temple cats to jump through tiny hoops - something which unsurprisingly draws the crowds. When we got there a number of moggies were sleeping on the floor, and it looked very unlikely that any had the energy to jump. I needn't have doubted though as, once sufficient numbers had gathered, a monk with a hoop approached. He scattered a few cat treats around, then grabbed one reluctant puss and bopped it lightly on the nose with the hoop, which he then held aloft. Low and behold the fat cat was up and through the hoop, to be rewarded afterwards. After eight jumps, they returned to their snoozing, the Myanmar visitors bowing to the cats before they left. We were so impressed we wanted to see it again, so hung around until more tourists turned up, and enjoyed a repeat performance.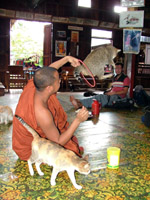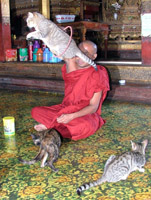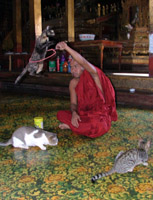 It was time to leave the lake, and we returned to the boat and began to make our way back to Nyaungswhe, by an area where tomatoes are cultivated hydroponically. We passed the fishermen, balanced on one leg as they took in their nets, and weaved our way through another floating settlement. Small children popped up at the windows of wooden houses to wave and blow kisses; naked boys climbed out of the canal onto wooden supports, and somersaulted back in; Men squatted on steps outside their doors, soaping themselves all over, then diving into the water to rinse off; women leaned forwards, washing their long locks in the lake. My hair feels positively short in Myanmar. Having hair past your waist is nothing unusual here, and I've seen many women with hair down past their knees. It always looks in such good condition, too: a thick cascade, glossy and black - very different from my messy mane.
Our tour finished, nearly twelve hours after we had started, and deposited the three of us back in the town. We arranged to meet for tea that night, and I returned to my room for a little nap. I've never really got the hang of naps, though, and ending up sleeping until morning. My head was buzzing today from too much sleep, and unbelievably I still felt tired. I decided to take it easy, visiting the local museum and a teak monastery just out of town, but doing little more. There are some temples that I could have visited, but I think I'm templed-out, temporarily at least. I expect to spend most of the next two days travelling - by train, if all goes well. I've under a week left in Myanmar, and I want to get a bit nearer the capital with plenty of time to spare. I'll be heading to Bago, which has a reclining Buddha even bigger than the one at Wat Po in Bangkok...and some more temples.
In case you think I'm being unjustly rude about Myanmar music, listen to this...
---
You'll find a whole lot of old flannel in this website; tales from all over the world. If there's anything specific you want to read about, you may find it useful to use the search button below.
[ View Guestbook ] [ Sign Guestbook ]
Get a FREE guestbook here!


Visit SerenityPhotography.co.uk, where you can buy beautiful pictures from around the world...all taken by yours truly!
---