First Impressions
Delhi 16th November 2005
I'm not going to blog for the whole time I'm in India - it's too time consuming - but I thought I'd record some of my first impressions on arriving in New Delhi, India's capital city.
It was the 14th November when I flew from Bangkok to Delhi - a little later than planned due to health issues, and I guess a brief explanatory note is in order. A few days before I was originally due to fly to India I got an ear infection - a bad one, much worse than any I'd had whilst diving. Three trips to hospital to see an ear specialist and a ten-day course of antibiotics (plus a supplementary jab in the bum) and I was pain free and fit to travel, though I'm still a little deaf (pardon?).
I was pleasantly surprised by the meal on the plane - which was a tasty veggie curry, not too spicy. Four hours into the flight we began our decent, breaking the layer of smog that sat over the city as we came into land. Once off the plane I was astonished by the clean airport, which was almost empty - where were the throngs of people I'd been expecting? The immigration officer who stamped me into the country was a sullen chap; behind him flashed a sign advising passengers not to acquiesce should a bribe be requested by any official, and I wondered whether that had anything to do with his mood. I grabbed my bag and passed though customs, whereupon an ambition of mine was fulfilled when I saw a man in the arrivals hall holding up a sign with my name on it. I happily waved at him and pushed my trolley in his direction.
In the car park he led me to a small hatchback and lifted my pack into the boot, and we set off through the twilight into the city. The traffic was pretty heavy - no worse than you would expect in a capital city at rush hour. I was struck by the amount of English signs I saw, not only road signs and the like, but also advertising stickers on cars such as "Lose weight - don't wait". Each of the green and yellow three-wheeled auto-rickshaws (also known as tuk-tuks) had "keep distance" painted on the back, and the number plates were combinations of numbers and Roman letters, rather than Hindi characters. The horn is used a lot in driving over here - not quite as much as in the Middle East, but not far off - especially when weaving in and out of traffic. After half an hour or so, my driver explained that we were nearing Paraganj, the market area containing many budget hotels (Delhi's backpacker ghetto), and invited me to pay him a service charge. I declined, on the grounds that I had no small change. I do realise, though, that life will be much easier for me over here if I can get my head around the whole backsheesh phenomenon...I just hate to part with money unnecessarily.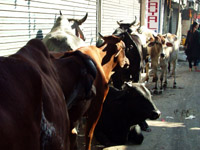 We parked up beside the concrete pillars of the metro, and the driver told me we had to walk the rest of the way from there. He donned my pack, and I followed him across the busy main road and into the warren of streets where a market selling fruit and vegetables was still in full swing. I trotted to keep up with him - they move faster here than in Thailand - simultaneously trying to dodge obstructions in the road, and leaping out of the way of scooters which raced up from behind, blowing horns that sounded like quacking ducks. I grinned to see my first cow, which was standing in the road looking gormless while people dodged around it. Ahead were lights and the sound of loud speakers, and the driver told me that a demonstration was in progress, although he was unable to explain further. A small platform had been erected at a wide point in the road, and a man with a turban and a beard was talking into a microphone, addressing a large number of people sat on the floor in front of the stage.
We squeezed past the gathering and continued down the bustling thoroughfare for several minutes, before turning left onto a narrower lane. I made the mistake of breathing in as we passed the open-sided toilets in the mouth of the alley, where men stood with their backs to the street, pissing against the tiled walls. In front of us lay the Namaskar Hotel, where I was offered a choice of two windowless rooms, and selected the one with the cleanest sheets. Back downstairs I was booked in by a softly spoken, flirty man who tried to talk me into taking a 21-day tour of Rajasthan. I asked his advice on which SIM card was best, and he sent me off with a boy to get one. I had to fill out a form, and supply a photocopy of my passport and a photograph, and wait a couple of hours until it was activated. India's such a big country that I will be roaming once I leave the state.
That sorted I went for a wander around, with my camera around my neck, keen to record my first impressions before I got blasé about things. The demonstration I'd seen earlier was breaking up, and the audience was filing away calling out melodic chants as they marched off into the night, supervised by policemen in khaki uniforms, each sporting a moustache and a long staff. I walked the narrow streets, straining to take in everything, dazzled by the colour. I saw deformed beggars, and backpackers so crusty they made those on Khao San Road look positively clean-cut. I entered a small cafe up a side street, where groovy music was playing, and had a cup of chai before returning to the hotel.
The following morning I was woken early but some loud chanting and ventured out soon after, wandering around lanes already busy with people and cows. I'd noticed the previous evening that the air was a lot fresher, and in the morning it was positively chilly. After breakfast I walked to nearby Connaught Place, a commercial centre built in British times. I was looking for Jantar Mantar, a huge open-air observatory, but detoured by a temple, where numerous scruffy men with staffs sat on the ground. Whether they were religious men or homeless I couldn't tell; I've determined not to worry too much if I don't understand what I see over here. Three young street girls approached me to beg, and were keen for me to take their photos - as many people seem to be here, which is great.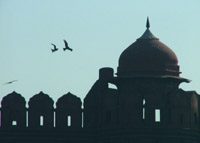 I'd already decided that I would take my first few days in India really slowly, but was surprised by how tired I felt - it must be the change in air. I booked a city tour for the following day through my hotel, and we set off a little after nine to see some of the sights. The first stop was meant to be the Red Fort in Old Delhi. Sanjay, my driver, told me that there was little point seeing it, as it was the little brother of the fort in Agra and expensive to enter. I said I would still like to go, to which he replied that it was a "time waster", and I would be better off spending the time elsewhere. Eventually I got the truth out of him: it is very difficult to find a park in Old Delhi. We agreed that he would drive past the fort, so I could take a picture of it from the outside, and then move on to the next place on the list. The skies above the fort were crowded with what looked like eagles; birds of prey of some description, at least. I asked Sanjay about them, and he explained that there were more of them here because it was a predominantly Muslim area. The locals encouraged the birds by leaving chickens, dead dogs and the like out for them.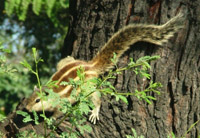 Once I'd got my photos we drove to nearby Raj Ghat, which is where Mahatma, Indira and Rajiv Gandhi were all cremated. I took a stroll through the landscaped gardens and around the man-made lake, where I noticed a shag on the rocks, drying its wings in the sun (fnarr fnarr!). I watched as small palm squirrels scampered around the grass, darting up trees when I got too close. I'd not been expecting so many parks and trees in Delhi, thinking it would be more of a concrete jungle; I've found it to be surprisingly green with a spacious feel to it. It's nowhere near as crowded and dirty as I thought it would be either - Yangon was much more of a culture shock to me. I wonder how much it has to do with preconceived ideas, rather than reality. After a relaxing walk I returned to the car, and we drove to Humayan's Tomb in South Delhi. The foreigner entrance fee was a steep $5 or 250 rupees, but I have to say it was worth it; a beautiful collection of buildings set in attractive grounds.
Next up was Lotus temple, belonging to the Baha'i religion - the world's youngest, apparently. It's not one I'd heard of, but was begun in Persia in the 19th century, and emphasises the essential oneness of humankind and of all religions, and seeks world peace. All good stuff...but I thought it had the feel of a cult about it. Many of the volunteers were Western, and I was approached by a young girl with shiny eyes and a Stepford-wives smile, who asked if it was my first time in a Baha'i temple. She was Polish, and had discovered the religion at home. I asked whether her parents were also of the faith, but she explained that Poland is a strict Catholic country, and many people there are narrow minded. The building itself resembled Sydney Opera House, but smaller and less glossy.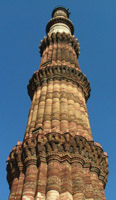 Qutb Minar was next on the list, another expensive attraction at $5/250r. Here I found a striking tower of red sandstone - at one time Delhi's highest building - intricately inscribed with verses from the Koran. We drove on to see the President's House and parliamentary buildings, built in the 1920s, the massive structures blending Indian and British styles. Sanjay was reluctant to drive to India Gate, but I insisted, and he parked up for me to take a picture. I turned down offers to snap a shot of chained monkeys in dresses, and nearly tripped over a snake charmer who threw himself and his snake on the floor in front of me and began whistling on his instrument, hoping I'd take a photo. I've developed a great strategy for coping with all the touts: I ignore them - I don't know why I haven't thought of it before. Being a bit deaf has helped, as it filters out a lot of the offers that come flooding in, as you walk along the street minding your own business.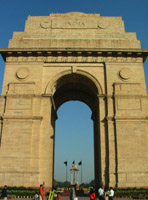 Once I got back in the car, Sanjay drove me to a handicraft emporium, where he was no doubt hoping I'd buy lots of things and earn him a juicy commission. He was out of luck, though, as I dutifully walked around the place and then left - my quickest stop of the day. He offered to take me to a shop selling spices and tea, and another selling silk, but I declined, so he brought me back to Paraganj, dropping me a short walk away from the hotel. It was an enjoyable day out, though whether it was worth the money was debatable. It certainly didn't convince me to go on the 21-day Rajasthan tour.
I booked my onward ticket today, climbing the stairs at the train station to the foreign tourist booking office on the first floor where. I wasn't sure which class to go for, but the turbaned Sikh told me to book a second class sleeper, which seems a little over the top for a three-hour journey, but apparently the class below that is standing class - whether that means you literally have to stand, or just that a specific seat is not booked, I don't know. I shall be leaving Delhi at 1130 on Sunday, on the 2626 Kerala Express, destination Agra, and the magnificent Taj Mahal.
---
You'll find a whole lot of old flannel in this website; tales from all over the world. If there's anything specific you want to read about, you may find it useful to use the search button below.
[ View Guestbook ] [ Sign Guestbook ]
Get a FREE guestbook here!


Visit SerenityPhotography.co.uk, where you can buy beautiful pictures from around the world...all taken by yours truly!
---