First Impressions - part 2
18th November 2005.
I have had a fabulous day! Having missed out on the Red Fort the other day I decided to visit it today, along with Jami Masjid - Friday Mosque - and the Jain Bird Hospital, which are both in the vicinity. I thought I'd walk to these, partly to avoid the hassle of negotiating with a rickshaw-wallah, but mainly because I firmly believe that you get a much better feel for a place by exploring it on foot. This can sometimes backfire, as I have an atrocious sense of direction, but I felt reasonably confident that I could navigate by the railway line. I had a fortifying healthy breakfast at the Everest Bakery - fresh fruit, muesli and curd plus a warm roll with butter and jam, and of course chai - and set off, walking past the station and over the railway bridge, which was draped with bunches of white string, for reasons unknown.
The streets were teeming with life, as people went about their business, and I was mostly ignored as I walked along snapping pictures - mostly. I did notice that two youths were following me closely, so stopped a while to let them get ahead. They just waited for me though, so in the end I stopped for almost five minutes in a busy square, waiting for them to get bored and move off. The area was an intersection busy with rickshaws, and men pulling carts laden with goods, and was interesting to observe. I was also a little unsure of which road to take out of it, but asked a policeman who pointed me in the right direction.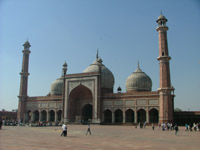 I walked up the steps and into the large square, and looked in awe at the mosque. The massive structure is red sandstone and marble, topped by onion domes, and with a minaret on either side. A number of people were milling around in the courtyard, some there to worship, and others like me just to admire. Pigeons were feeding on corn thrown down on the stone slabs, and I noticed that many more were perched upon one of the bulbous domes, until two hawks flew over and systematically chased them away.
Once I had retrieved my shoes, I crossed under the busy main road to Lal Qila, the Red Fort. Here I discovered that Sanjay had fibbed about the entrance fee - it was only 100 rupees, not 250 as he had told me - only 5 rupees for Indians. I noticed a sign on the gate that warned against accepting food or drink from strangers, as it may be poisoned and you may be robbed. Before entering I had to walk through a metal detector, have my bag searched and be rubbed down - whether security has been increased after the recent bombs, I don't know. Inside were sandstone columns and arches and ones of inlaid marble, buildings that used to house the emperor and others for his harem. Apparently the British forces greatly defaced the latter when they used it as an Officers' Mess after the mutiny.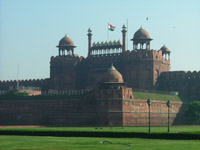 The fort also housed a number of museums, and I was able to learn a little about India's fight for independence, a subject which I knew little about. Whilst I was in that museum I was approached by an Indian graduate student and her boyfriend, and we chatted a while about differences between our two nations. I declined the offer of a biscuit - one of the food items specified by the sign outside the fort - although I didn't really suspect she was about to drug and rob me; I'm sure she was just being friendly.
Some less welcomed friendliness was evidenced while I was in the ground of the fort, by a group of a dozen or so young men following me persistently. I'd pause and let them get ahead, then they'd stop and make kissy noises as I passed by them. As well as selective hearing, I've trying to develop selective vision for my time here; try not to see the staring. On the whole I think I'm doing very well, but it's a bit like one of those magic-eye pictures; every now and then it just clicks into place, and I cannot help but notice it. I focused instead on some of the wildlife that lived in the ground: more palm squirrels, and red, black and white bird with crests and long, thin beaks. I'm pretty astounded at the variety of birds and animals I've seen so far, including parrots and monkeys...and I've not even left the city yet!
On leaving the fort I crossed the road to the Jain Bird Hospital, where they rescue and repair (if possible) injured birds...and a couple of rabbits too. It was while I was walking around here, with my head bent close to a cage to get a good look at a pigeon with a broken wing, that I remembered Asian Bird Flu! Fortunately, I don't think it's hit India yet. I left there and began to make my way back to Paraganj - straight along the road till I crossed the railways lines, then turn left. The pavements were packed with people, and the roads crowded mainly with rickshaws, and a few people pulling carts piled high with sacks. I passed through different districts, my favourite being the colourful spice markets, where the pungent dust irritated my nose and throat, until I joined in the chorus of coughs. It was an exhilarating walk, and more fun than any of the attractions I have visited.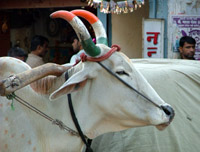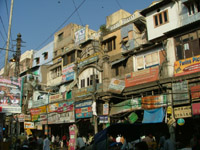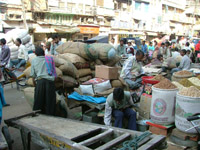 ---
You'll find a whole lot of old flannel in this website; tales from all over the world. If there's anything specific you want to read about, you may find it useful to use the search button below.
[ View Guestbook ] [ Sign Guestbook ]
Get a FREE guestbook here!


Visit SerenityPhotography.co.uk, where you can buy beautiful pictures from around the world...all taken by yours truly!
---