Pukka Postie
7th October 2006
It's been a while since I wrote last, so I guess it's time I cast my mind back and update you with what's been going on in my world.
I had a holiday this month. Well, I say that, although I actually stayed at home and went to work everyday; it was my parents that went away. They spent a fortnight overseas visiting relatives, and I had the place to myself, and wallowed in peace and quiet. The sun shone and the weather was warm, and I'd come home from work everyday and lounge around in my hammock, drinking cider and reading trashy magazines (I developed an addiction for these, though I don't normally buy them). What bliss.
The day they left, I was offered a part-time permanent position with Royal Mail which I accepted, so I had something to celebrate too: I'm now a pukka postie. It's 31 hours a week, with scope to do more; the difference in wages means that even with less hours, I'm earning around the same. And now I get paid for my full hours, even if I finish early - I was home by eleven today, which was nice! I'm still enjoying the job, and the bags are getting easier to carry.
I got soaked yesterday; it was rainy & blowing a hoolie. It was weird though - the weather men said it would clear up by five, and right on time the wind died down, the rain stopped, and the sun came out! Been clear today but chilly. It would have been an ideal opportunity to go out with the camera, but I was on a long round this morning (I've done it before - eight miles with lots of hills and steps), and just couldn't face more walking when I got back...especially as I had to walk back to the office, instead of ride my bike. I'd get a lift back yesterday from a passing van, and left my locked bike out, planning to ride it back today...only the bike had gone! I guess that's what you get for leaving a bike outside a pub on a Friday night! They were cool about it - happens a lot, apparently. My boss said that they'll get a phone call in a few days, saying it's been dumped in somebodies garden.
I managed to get out and about with my camera earlier in the month, and have started a couple of new galleries on pbase, as well as added to some of my local ones (you can see what I've added to recently here). I've finally got all my pictures online from my July trip to Sussex, if you fancy a gander; Bosham was undoubtably the highlight of the trip for me. It was after that trip that I'd noticed a fair bit of crap had built up on my sensor, so I sent away for the recommended - expensive - gear to clean it with. Once it arrived, I spent a fraught hour or so getting to grips with it. The first sweep with the brush got rid of 90% of the dust, and I was really pleased and encouraged. Of course I wasn't going to leave it there, with a few specks still apparent, so went in for another go. Having seen the sterling work I'd already done, my mum handed over her precious camera to me...and it was downhill from there! Whether I'd left the mirror up too long, or flapped dust around, or managed to get some grease on the brush, I don't know, but I ended up with splodges and smears all over the shop. I was narked about my own, but felt just dreadful about my mum's - she'd only had a couple of specks in the first place. Anyhow, to cut a long, tense story short, I did eventually manage to improve matters. I wouldn't say the sensors are spotless, but they're not far off...thank god! Again, I'm sure it'll get easier the more I do it - although I'm going to do my best to minimise the crap that gets in there in future, and be much more careful when I change lenses.
I've finally sorted out the laptop problems that have plagued me since July. I managed to get a full refund from Laptops Direct in the end, for the faulty, second-hand machine they sold me - although it took a lot of effort to get it sorted. Once bitten, twice shy, so I looked elsewhere for a replacement model, and am now the proud owner of a Fujitsu Siemens Amilo Pi1505, which seems to be working perfectly, thankfully. I've uploaded some mostly new images to SerenityPhotography.co.uk, which you can find on the Recent Additions gallery.
You may remember me mentioning a book that I wrote about my overland trip to the Middle East and Africa. Well, as I've been unable to get myself signed up by a major publisher, I've decided to serialize it here on my website! I figured that I may as well share it, having gone to the effort of writing it. In due course, the book will be on sale - thanks to the self-publishing company Lulu - so if you're an impatient sort, this may be the option for you. And with Christmas coming up, it may just be the perfect stocking filler...watch this space!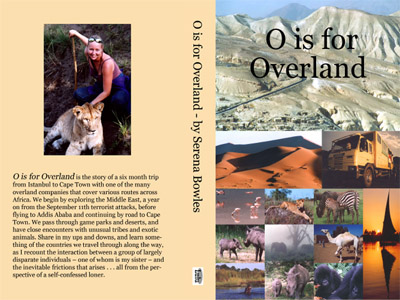 ---
You'll find a whole lot of old flannel in this website; tales from all over the world. If there's anything specific you want to read about, you may find it useful to use the search button below.
[ View Guestbook ] [ Sign Guestbook ]
Get a FREE guestbook here!


Visit SerenityPhotography.co.uk, where you can buy beautiful pictures from around the world . . . all taken by yours truly!
---