Happy Halloween
30th October 2006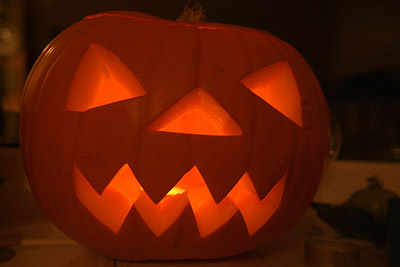 Another month gone, although it seems scarcely possible. As usual time accelerates when I'm home, as a regular routine makes days merge into each other and the weeks fly by. For the time that I'm travelling, I can recall almost every individual day; they stand out distinctly from one another, and I feel that I get more out of life because of it.
I've done 18 different walks at work now, and my knowledge of Dover's geography is becoming more complete as each piece of the jigsaw fits into place. In my first few weeks my opinion of the town went up, as I saw some of the nicer areas with imposing houses, sweeping drives and pretty gardens. Of late I've been seeing the other end of the scale: delivering to grotty council estates with gardens scattered liberally with kids toys and dog shit, and pavements strewn with rubbish that attracts swarms of flies; dark, depressing blocks of flats, with dimly-lit corridors and an inner-city feel to them. Many of the houses have vicious-sounding dogs that fling themselves at the plastic doors, slavering and howling in a hateful way. No nice pups these; the pets have been chosen for their attitude and street-cred: "Watch out, bull mastiff about"; "this house is protected by dobermans"; "dog will bite if provoked". The warning signs aren't empty threats either - the regular postman on one of these walks was attacked by a dog last year, and had to have stitches in his stomach. My nerves are jangling by the time I finish.
I have deduced that cats are middle class - at least that their owners are, anyway. Posh people tend to own dogs, as do those at the other end of the social spectrum. It's the nice, neat estates, inhabited by house-proud first- or second-generation homeowners that are the cats' domain. Give me a street lined with cats any day - even the longhaired snooty fellows that wouldn't give you the time of day.
I think I'm fitter than I've ever been now, and have speeded up considerably since I began. I'm coping much better with the heavy bags too - the heaviest I've carried was over 26 kilos. Thatís 10 kilos more than it should have been...but it's so much more convenient to go out with a heavy bag than to split it into two and have to walk back to pick up the second one. The combination of heavy bags and hills still slows me down, but I'm getting there. I have to - the past few weeks I've been on a rotating pattern of five walks, two of which are almost all steps, another one includes the biggest hill in the district and a forth has so much mail that the bags are regularly overweight. I enjoy the challenge of trying to better my previous best time, and even beat some of the regular guys back on occasion.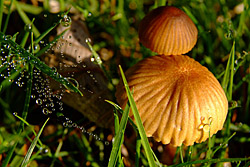 I've decided that, in order to make the most of this new-and-improved, fitter me, I should begin my next big trip (too right there'll be more!) by trekking in the Himalayas. It's something that I honestly thought would be beyond me in the past, due to reasons of extreme laziness, but I think it would be a breeze after a couple of years as a postie.
Of course I couldn't work all that time without a break, so I've already started planning for a wee holiday next February. I'm hoping to catch up with friends in Zanzibar, and thought I might as well do a little safari whilst I'm in Tanzania. Well, I've got to have something to look forward to! Morocco's still on the back burner, and there are a few places in Britain that I'd like to get to while I'm back. In the meantime I shall make do with my little corner of Kent, and try to get out as often as the weather and my energy levels allow. It's easy to take things for granted, but after a few years away, I've been reminded of how photogenic autumn is of late.
So now for a merciless plug!
As the festive season slowly creeps up on us, you may find yourself at a loss as to what to buy a loved one for Christmas. Well I've a suggestion or two for you (thought you might have!).
Perhaps a poster-sized fine-art print of one of your favourite photos might do the trick - or for that special someone you could splash out on a fashionable canvas print (allow three weeks for delivery, as each piece is hand made). If your budget doesn't quite stretch to that, then take a look at my range of calendars which are available either in A3 size to hang on your wall, or a smaller desk-top model. For your favourite bookworm, why not buy a copy of O is for Overland, and let them read in detail about my adventures through the Middle East and Africa - the second chapter, Turkish Delights, has now been posted if you want to get a taster.
All the above items can by bought either through this website, or SerenityPhotography.co.uk and I accept all popular payment methods - just make sure you order in plenty of time to avoid disappointment...you know what the postal service is like over Christmas!!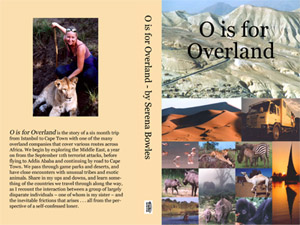 ---
You'll find a whole lot of old flannel in this website; tales from all over the world. If there's anything specific you want to read about, you may find it useful to use the search button below.
[ View Guestbook ] [ Sign Guestbook ]
Get a FREE guestbook here!


Visit SerenityPhotography.co.uk, where you can buy beautiful pictures from around the world . . . all taken by yours truly!
---