Marrakech, Day Two
8th November 2007
I got up relatively early - not as early as planned. Breakfast is served between 0630 & 0930, and I rather ambitiously set my alarm for 0550, intending on an early breakfast followed by an explore. As it was I went down around nine, ate less than I intended (it really wasn't very exciting - the reviews were right about that - although I smuggled a pain au chocolat up to my room & snacked on it when I got in - I'll be doing that again!), and went out around ten o'clock.
Having got my immediate bearings last night, I didn't have too much difficulty in finding Rue Mohammed V, the main drag which connects the new part of the city to the Medina, and following it into the heart of the old city. I stopped en route for a wander around Jnane el Harti, a formal but relaxed garden with paved paths to perambulate along. It exuded some divine smells, and seemed to be a large-scale herb garden. Birds that I am yet to identify sang sweet songs, and it was whilst listening to them and breathing in the aromatic air that I realised I had found myself again. I love travel; I love heat; I love adventure; I love to experience unfamiliar sights, sounds and smells. I am not your run-of-the-mill average person; I am independent and proud to be so. Recently I have been fading away, forgetting my soul, becoming part of the rat race and believing that my happiness is dependent on others. This is not who I am, nor who I want to be. I am a lion, not a sheep. And the next time I forget that, the next time I lose myself, I have only to book myself on a plane to a foreign land.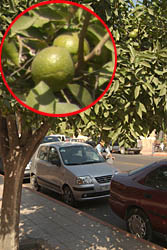 I love the orange trees that are planted every few yards along the pavement, their boughs laden with fat fruit. The pavements here aren't too bad - you've got to keep an eye on them to save tripping on the occasional cracked or missing slab, but I've known worse. The roads are mostly wide, with less traffic than one would expect in a city. Best to keep your wits about you when crossing them, watching for gaps in the traffic and slipping between bikes and cars (the timid would never get anywhere), but cars don't aim at you as in Northern India; in fact I think they probably would brake rather than hit you...though I don't intend putting that theory to the test.
Not long into my walk I felt myself relax. This feels like a safe town; I don't feel paranoid about my possessions, even my obviously-expensive camera. I've also realised that the eyes-down approach is largely unnecessary. There's only a small fraction of the botherations in India, less even than Egypt and Turkey (both of which I found to be relatively hassle-free). I've seen a handful of insensitive tourists in vest tops and miniskirts/shorts, and wonder whether they would agree. Sweaty, but sensitive and safe...that's my motto (catchy, isn't it?!).
A small aside here to note that the bougainvillaea is full of hundreds of the noisiest sparrows - or maybe finches, I can't tell - I've ever heard. Flocks of the small birds keep swooping between the two hotel buildings - always in the same direction, I think they must be doing laps, or else several thousand have passed by already - while many more are tweeting and twittering amongst the leaves which cover the wall adjacent to the pool. Might have to go and watch them for a bit. It's not long started, and will probably cease as suddenly.
I had been keeping my bearings during my walk by pointing towards the tall minaret of the Koutoubia Mosque (at some of the larger roundabouts it would have been quite difficult to work out which were the right road without this landmark), so I visited it before the main square. The square minaret is impressive; it is considered to be the most perfect structure of its kind, and has been the model for towers on mosques and churches in Spain and Eastern Europe. Near there I saw a water seller in his bright red robes, being followed by a group of cats, which he obviously feeds. There are many cats here, and the seem happily tolerated and well looked after, in the main. Around the souk (markets) I saw many gnawing on tidbits. A popular form of transport for tourists and locals are the caleches, horse drawn carts, and I'm happy to report that the animals appear healthy and well fed - so different from those I saw in Egypt, which tended to be pitifully skinny and covered in sores. I may even be tempted to have a ride myself at some point! The horses used to haul cargo are not in such good nick, unfortunately, yet still much healthier than their Egyptian counterparts.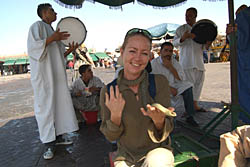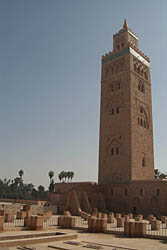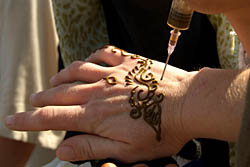 I made my way to Jemaa el Fna, the main square which is said to truly come to life at night - definitely worth a visit before I leave. I stopped first for a tasty, chilled orange juice costing 10 dirhams, and took my time while I supped it, leaning against the squeezer's cart. Then I wandered around the square, weaving between fortune tellers, women applying henna, and men sat beneath umbrellas selling a strange assortment of goods which looked like they'd be used in witchcraft. I was drawn to a lively section where fluted music was playing, and was accosted by a snakecharmer. I've a weakness for snakes, so put up no resistance as he touched the reptile to my head for good luck, and wound it around my neck. I knew it would cost me money, but I happily gave him my camera and posed for photos - I seem to be at my happiest with a snake wrapped around me...maybe I should consider becoming a stripper...or maybe I should just get a snake and keep my clothes on! All too soon I was kissing the snake goodbye, and gave the charmer just 10 dirhams for his trouble. May have to go back for more before I leave - I love snakes!
Not long after a henna-girl hijacked me, grabbing my arm and squirting brown goo on my hand from a syringe. This uninvited intrusion was less welcome, but I was loath to pull my arm away, thinking of the mess it would make. She was, to her credit, a fast worker, and I paid her the equivalent of a pound to get rid of her. The henna would, she reliably informed me, help me to get a good husband...hmmmm. I was to leave the gunk on for five minutes, so sat at a cafe on the edge of the square, where I ordered a mint tea (deliciously sweet), and begged a serviette from a group of older women (one of who was, coincidentally, born in Folkestone). We chatted for a while, and they recommended that I take a guide if I planned to head to the Jewish quarter; I hadn't particularly planned to, but I may add it to my list if I have time.
It was past midday, and feeling wonderfully warm in the sun; I wouldn't dream of saying that it was too hot - that would be sacrilege! - but I was happy enough when I found my feet taking me into the covered market, which was both hectic and relaxed. Moroccans are not as keen on having their photos taken as some nationalities (Indians spring to mind), so I was a little wary to snapping away too freely. I asked one stall holder if I could take a picture of his shop - not him, just the wares - and he sullenly asked for one euro. He dropped this to five dirhams as I walked away shaking my head, but I decided a wee bit of sneakiness was in order - after all I feel emasculated if unable to take photographs. So from that point on I shoot mainly from the hip (well, the belly to be precise), changing my ISO to 400, opening the aperture, and using wide angle to maximise the low light.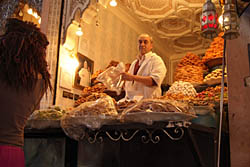 I spent the next couple of hours sauntering slowly through the winding alleyways, past stalls selling clothing, cushions and babouches - the embroidered slippers worn in these parts. There were jewellers and basket makers, sections selling colourful crockery and shiny musical instruments, leather goods and exquisite lampshades. Some lanes were wide while others so narrow that you had to take care not to get knocked over by the bicycles and motorbikes tearing past; mind you in the wider lanes you had to watch out for donkeys pulling carts, or men dragging overloaded barrows behind them. I wandered down a couple of dead ends, leading to residential areas, and marvelled at the crumbly walls and ornate doors. I realised that not all the photos would come out, but didn't mind as it would give me an excuse to come back another day and repeat the enjoyable experience.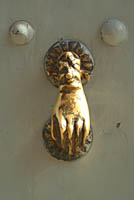 At one stage I left the covered section and emerged blinking into the sunlight, which was filtered through thick smoke pouring from food stalls, the smell of frying fish and grilled meat assailed my nostrils. I paused at each decorative doorway, catching enticing glimpses of Moroccan life as I passed by. I returned to the covered souk, capturing details along the way: carved arches, and doorknockers in the shape of Fatima's Hand, to ward off evil. I found myself in the pet section, with cages full of tiny turtles and chameleons so small they looked like broaches. Snakeskins hung above spices and soaps, and the pelts from more exotic creatures. I failed to be tempted by pastries swarming with wasps, and turned down the offer of viagra.
I was running out of space on my memory card, so returned to Jemaa el Fna in order to retrace my steps. It was here that I encountered the only piece of hassle I've had since I arrived, when a money changer pursued me aggressively, demanding 100 dirhams when I declined to change money. It was all over in a few minutes, and I was in a crowded place, so didn't feel threatened. I had been prepared for more hassle in Morocco, but I am pleasantly surprised at how laid back it is...so far!
---
You'll find a whole lot of old flannel in this website; tales from all over the world. If there's anything specific you want to read about, you may find it useful to use the search button below.
[ View Guestbook ] [ Sign Guestbook ]
Get a FREE guestbook here!


Visit SerenityPhotography.co.uk, where you can buy beautiful pictures from around the world . . . all taken by yours truly!
---