Marrakech, Day Three
9th November 2007
I got up earlier today, and nearly went down for breakfast at 0630 - I had a look from the balcony & figured they weren't really ready (sure they were, but they were still sweeping up by the pool...mind you, it was too chilly to sit outside anyway). I snoozed for a wee while and went down at half seven - still bloody early, I reckon - pat on back! After breakfast & stealing two pain au chocolats I prepared myself for the off, and headed east along the Boulevard Mohammed Zerktouni, in the direction of Majorelle Gardens, which are supposed to be jolly nice. My plan was to have a leisurely morning perambulating the park, return to the hotel to catch some rays by the pool & chill awhile, then visit the Jemaa el Fna this evening.
I had almost reached the Gardens, having just negotiated two rather tricky roads, when I glanced at the sky and saw quite a lot of clouds. I wouldn't go so far as to say it was overcast, but neither was it brilliant sunshine. I figured my time and money could be better spent on indoor pursuits, namely a visit to Musee Marrakech & the adjacent Ben Youssef Merdersa. I re-crossed the roads and aimed for the Medina, the city centre, passing into the old city by Bab Doukkala (bab means door or gate in Arabic, and there are a number of babs in the city walls) and walking in the general direction of the museums. It is a joy to wander aimlessly through the labyrinth of narrow streets, however when you have a specific destination in mind the confusion of twisting lanes can be somewhat frustrating.
The width of the streets change quickly; one minute you are walking down a road easily wide enough for cars, and the next you find yourself in a narrow cobbled alley, with barely enough breadth for two bicycles to pass - or so you think until a donkey-drawn cart trots towards you. I passed from commercial districts to quiet residential areas with seemingly no warning, and would turn a corner to find a dead end...or a busy thoroughfare. Eventually - after many wrong turns and a brief sit down in a shop where I got to hold a tiny chameleon, watching intrigued as spots on its back faded from green to the colour of my skin - I found the museum.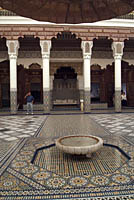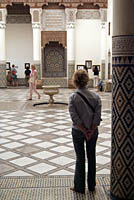 I paused briefly at a rather bizarre modern-art installation of paper-mache ballgowns, and then entered the main room - and what a room it was! A geometrically tiled floor, punctuated by three gentle fountains, with a giant metal filigree lampshade (for want of a better word) suspended from the ceiling. Columns and niches stood around the edges of the hall and archways led to further rooms housing exhibits. The labels were in Arabic and French - which I found to be a blessing in disguise, as I usually feel obliged to read them even if I'd rather not. I'd like to take a moment to applaud the fact that photographs were permitted within the museum; it would have been a sin not to capture such splendour. The room was so wonderful that I was reluctant to leave it, but I dragged myself away and visited nearby Ben Youssef Medersa.
The last place had impressed me, but this one blew me away. It is one of the most astounding buildings I have visited, and rates up there with the Taj Mahal and York Minster, as far as I'm concerned. A medersa (or madrassa) is an Islamic religious school, where students learnt the Koran. Islam forbids graven images of people or animals, so the walls of madrassas and mosques are covered with geometric shapes and graceful Arabic script. There is a large courtyard in the middle of the building which has a rectangular tiled pool in its centre. The exquisitely carved stone walls are topped by dark wood, and windows from the classrooms on the first floor overlook the area. Covered sections on either side are tiled with mosaics, and at the end is an room for prayer, with a highly decorated mihrab - a niche which points to Mecca, the direction that Muslims pray towards. The courtyard was divine, and would certainly help one be mindful of God.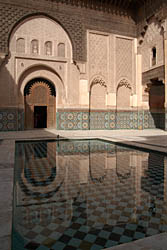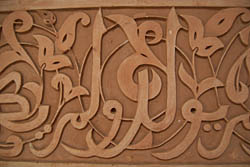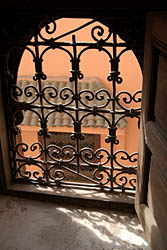 The building which surrounds this sumptuous square contains cool corridors leading to small classrooms on the ground and first floors. These are much plainer, yet still pleasing to the eye. Some of the upstairs rooms are laid out with scholarly items such as books and desks, along with practical things like candles, teapots and cups, and a small pot for a fire accompanied by bellows. For 60 dirhams a combined ticket allowed me to visit the museum, the medersa and Almoravid Koubba, a small building nearby that is thought to have been an ablutions area for the Ben Youssef Mosque, adjacent to the medersa. The small, attractive building is the only one to have survived from the Almoravid dynasty, in the eleventh century.
It was early afternoon by this stage, and I'd run out of sightseeing steam, so got a taxi back to the hotel for a rest. I'd planned to sunbathe by the pool but it is overlooked by the dining area, so I thought it best not to strip off to my bikini. The hotel is used by a number of Morrocan visitors as well as tourists, so I figured flashing too much flesh would be inappropriate. Fortunately the hotel is flat roofed, and a number of sun loungers are placed on the roof of the annexe, so I caught some rays there instead. I was tempted to stay put for the day, but wanted to check out the Jemaa el Fna at night, when it is at its most active, so dragged my lazy bones out.
I'm staying a couple of kilometres from the Medina - no problem for a fit postie girl like me...but the walk was wearing a bit thin, so I figured I'd catch a bus into town. As luck would have it, one pulled up just as I turned on to the main road. I had to run to catch it, but managed to jump on through the back doors...trouble is, that's not how buses work in Morocco. You are meant to get on through the front doors, buy a ticket from the driver, and alight via the back doors - I'm so used to bus conductors in foreign lands. Once the bus had mostly emptied, the driver had to leave his seat and drag me to the front to buy my ticket; it's at times like these that I'm quite glad I don't speak French - I'm sure he had a few choice words for me!
I got out at the square and made my way towards the noisy throng of people - so much more crowded than in daytime. I soon discovered a flaw in my "shoot from the hip" photography techniques; I turned the ISO up to 800 to help with the low light, but forgot about the autofocus - in dark conditions the camera sends out a little beam of light to assist with focusing...not very subtle! So I had to put my money where my camera was, and pay for a few shots...but obviously this could get expensive with someone as snap-happy as myself (over a thousand photos already). Luckily for me the foodstalls, and some of the pavement sellers, had bright lights, so I was able to sneak a few pictures in.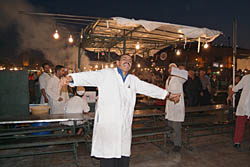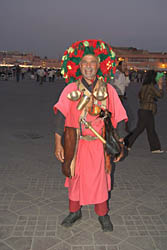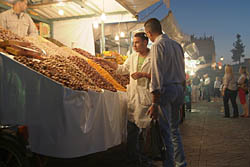 After having a look around and soaking up the atmosphere I risked a vegetarian couscous at one of the stalls. I've read that even vegetable dishes can contain meat, and most will have been cooked in meat stock, particularly the tangines - a Moroccan stew cooked in an earthenware tangine dish - but I can't live on breakfast and bananas. It was enjoyable to sit and watch the stall holders compete for the custom of anyone passing - trying to guess the nationalities of foreigners, and call out in the appropriate language. They'd offer a hand to the passing men, then firmly grip anyone that shook that hand, dragging him towards the stall and showing him the delights they could serve up. For the adventurous delicacies such as snail stew or even sheep's heads can be sampled - yum!
Aside from the foodstalls are rows of stalls selling orange juice, or nuts and dried fruit. Snake charmers do their thing in another part of the square; the "blue men", desert nomads, sell all sorts of strange concoctions including ostrich eggs (that's what I'm assuming they are, anyway - have to be a bloody big bird to pop out an egg of that size). Groups of Moroccans crowd around storytellers, and fiddlers, and men in drag bellydancing - I'd call them hijra if I were in India, but I'm not sure of the status of these; hijra self-castrate, but attitudes towards homosexuality are very different here, so I don't know what the score is. I'll have to research it when I get home...then again, who knows what sort of websites I'll come across (excuse the pun) if I do? There were all sorts of things going on, but without a grasp of the language most of them were lost on me. Once I'd had my fill I made my way home, leaving the frivolities to go on until late.
---
You'll find a whole lot of old flannel in this website; tales from all over the world. If there's anything specific you want to read about, you may find it useful to use the search button below.
[ View Guestbook ] [ Sign Guestbook ]
Get a FREE guestbook here!


Visit SerenityPhotography.co.uk, where you can buy beautiful pictures from around the world . . . all taken by yours truly!
---