Masked Monks Make Merry
8th July 2010
The Ki chaam festival was held at Ki Gompa today. I'd intended on getting a taxi or shared jeep up there, but they laid a special bus on, so I caught that instead. The festival is held in June or July every year, and is an eagerly awaited event in the region.
Ki monastery is 12 kilometres from Kaza, and I arrived in time for most of the action. The monks were dressed up in elaborate, colourful outfits, some wearing painted masks, and they performed complicated dance routines, their costumes billowing out as they twirled around. The weather was a bit hit and miss - some sun, some cloud and a little rain - but when the sun was shining I can't imagine how hot they must have been in their heavy costumes and paper mache masks.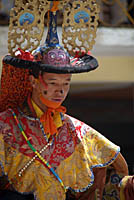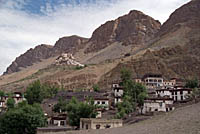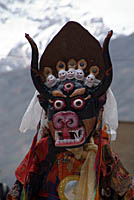 I felt very lucky to be around to see the festival, and it was also a great opportunity too to get some surreptitious shots of the local folk enjoying the show. There are such interesting faces around here. To my mind they divide into three distinct categories: there are those with a typical Indian look (although that's hard to define in a country as large as India); others that resemble Tibetans, and have possibly descended from that race; and a third type that I think look more Central Asian, similar to Afghans.
After a couple of hours of dancing, an announcement was made over the tannoy that a free lunch would be served behind the school, and the costumed monks exited stage left. The locals knelt either side of the procession, honouring the monks, and many over the women prostrated themselves, urging the monks to walk over them as they left.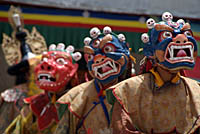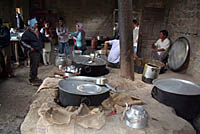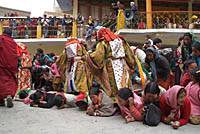 After lunch there were a few more dances by locals in traditional outfits, and school children, then the proceedings came to an end, and I hopped aboard the bus back to Kaza. I've had a headache for three days now, and it got much worse while I was up at Ki . . . and better on the bus ride back down the hill, which does indicate that it might have been altitude related. I'm leaving Spiti tomorrow, bound for Rekong Peo, which is a mere two kilometres above sea level, so it will be interesting to see if that shifts it.
It was only on the bus back to Kaza that I realised I had forgotten to visit the actual monastery! Oh well, something to come back for, along with Kibber, the village that's eight kilometres distance, and a little higher, than Ki. I've really enjoyed my time here in Spiti. I love the remoteness of the place, and how friendly the people are. It will be very interesting to see how Leh and Ladakh measure up. I think I can confidently say that Spiti has become my new favourite place in India . . . can Ladakh top it? We shall see.
---
[ View Guestbook ] [ Sign Guestbook ]
Get a FREE guestbook here!
If you're looking for great stock images, I've got thousands online - check them out!


Visit SerenityPhotography.co.uk, where you can buy beautiful pictures from around the world . . . all taken by yours truly!
---