Farewell to Spiti
12th July 2010
So this marks the end of my adventures in Spiti. I'm currently in Kalpa, where I arrived late yesterday afternoon, and off to Shimla in the morning.
Yesterday morning I arrived at the bus stand at seven, half an hour before my bus left, and queued up at the ticket office to ensure a good seat, as they issue seat numbers here. I had checked, and the right hand side of the bus was the best for views. The front row has more legroom, so I asked for seat number four, explaining that I wanted the window seat to take pictures. I boarded the bus, wedging my pack in the front section, hoping that it wouldn't be ousted and stuck on the roof, and took my seat. A couple of minutes later a sour-faced Indian man abruptly ordered me out of my seat - I'd got the numbering system wrong, seat number four was in the aisle, it was six that I should have asked for. The grumpy man ignored my pleas for photographic perks, but the nice conductor ushered me to the seat behind, telling me that I could get good pictures from there too. A tool box under the front seat meant that this row had the least leg room on the whole bus, but at least I had my view, and I spent much of the journey leaning out of the window.
The first part of the road I had travelled twice already, once on the two-hour trip to Tabo, and the second time as far as Sichling, just an hour or so away. My journey to Tabo however had been in the rain and mist, so I had no idea how beautiful that section of road was. Had I seen the great views the first time round, I'm sure I would have enjoyed Tabo more. Two foreigners got on there, and when we stopped for breakfast an hour or so later, I realised that one of them was Nikos, the Greek guy I had met at Dhankar lake. He was travelling with his friend Arman from Sudan. The two were studying media and filmmaking in Delhi, and were visiting Spiti on a short break.
Not long after breakfast we reached Sumdo, which is just a few miles from Tibet and marks the beginning of the restricted zone, and my fellow foreigners and I had to alight and show our inner line permits, while some soldiers had a quick scout around the luggage on the roof to ensure there was nothing out of order up there. We continued following the course of the Spiti River for a while before climbing high up into the mountains. It is this section that the Lonely Planet describes as "the most dangerous and knee-trembling road in India"; I say that is utter tosh. All I can think is that the researcher was either a big girl's blouse, or that they had an unusually reckless driver on their journey. The road was fine - yes there were lots of hairpin bends, and the drops at the side of the road were rather large, to say the least - but the driver was cautious and safe. There was one point where the driver looked out from the door of his cab as he edged around a rather tight bend, when the back wheels were just a centimetre or so from the precipice, but even then I didn't feel worried at all.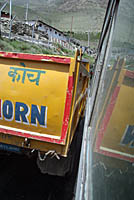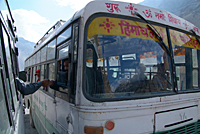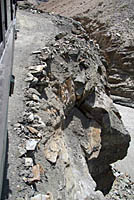 Lonely Planet was right about one thing though - the views were sublime. The scenery didn't top that on the journey to Spiti from Manali, but I was still glad that I had made the round trip. Once we had crested the pass, we pulled in to the pretty town of Nako around midday, where a large group of Israelis waited on the pavement with their packs. I looked around our already overcrowded bus, and wondered how on earth they were all going to fit on, but fortunately all but one of them were heading in the other direction. We continued our descent, the road returning to run alongside the Sutlej River. The scenery, while still impressive as far as scale goes, was less beautiful now, although the journey was still enjoyable. We stopped again to show our permits, and then soon after for lunch, before continuing towards Rekong Peo.
It got a bit messy after we passed Pooh, a rather aptly named shitty little town with an army base and a lot of traffic. From here on the road had been cut into the rockface a short distance above the maelstrom of rushing water, forming a kind of open sided tunnel. The whole way along there were numerous crews working on the roads, clearing landslides as such like, which made the going slow as we had to keep stopping and starting. There were countless blind bends, and behind each one seemed to lurk an oncoming vehicle, many of them trucks, and most going to fast. At one of these I actually found myself laughing in the face of danger, when we had a near miss with a lorry, both vehicles screeching to a halt with a foot or so to spare. A man in the row in front of me jumped out of his seat in fear, while I laughed out loud. I do hope this fearless approach to dodgy journeys continues, it's much better that worrying myself into a state the whole time. There were a number of other close calls, but we survived intact - and much sooner than I'd expected started seeing advertising signs for Rekong Peo - I'd been prepared for a twelve hour journey, but in reality it was less than ten.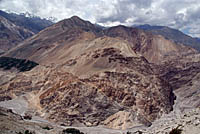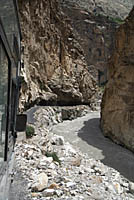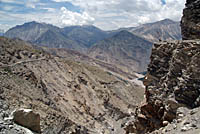 I was unsure of where to go on getting off the bus - should I stay in Peo, and catch an early bus to Shimla, or head to the pretty village of Kalpa a short distance away? An important factor to be consider was the date - 11th July, the day of the World Cup Final. I decided to take a lead from my fellow foreigners, all of who were heading to Kalpa. A small local bus was soon to depart for the village, so the four of us got on, totally blocking the aisle with our bags and ourselves. The Israeli guy got talking to an Indian man on the bus who owned a guesthouse in Kalpa. We checked and double-checked that he had a TV and reliable electricity so that we could watch the match, and then agreed to check it out. After a fifteen-minute walk, including an arduous shortcut past numerous dope plants, we arrived at Hotel Royal Voyages, which had splendid views of the Kinner Kailash mountain range. I was shown a large, relatively clean room, and told that the single rate was Rs200 - a price I liked. The shower pleased me even more - it was the best shower I've had since leaving England for sure.
The four of us met in the restaurant upstairs for some food before the match. Ordering was a little tricky as, although there were many things on the menu, most of them were unavailable. We did finally each find something that they did have, and settled in to watch the pre-match commentary. We were all tired from the journey, and hoping that the match would start at ten o'clock our time rather than midnight. The hotel didn't have any beer, and we hadn't thought to pick some up in Peo. An hour later and we were still waiting for our food, and starting to get a little restless. The Israeli and Greek both made trips into the kitchen to check on how things were going, and see if they needed any help. Finally, almost two hours after we ordered it, the owner came and told us that our food was now ready . . . when would we like it? Half an hour after ordering it would have been nice! None of us got exactly what we were expecting, but at least we had something.
Soon after we'd finished eating, the match began. By this time we were all a little hysterical, and found the match and the commentary very funny. The football may have been diabolical, but the continuous whistle blowing was hilarious, and we cheered each time a yellow card was issued. I started off supporting Holland, but by the second half I just wanted somebody to score a goal, so I could go to bed! Extra time over, and Spain having won the cherished trophy, it was time to hit the hay - and I went to bed knowing that there was very little chance of me moving on the next day.
When I awoke this morning that suspicion was confirmed. An early morning the day before, long bus ride and late night had taken its toll, and I was knackered. I waved off my three temporary companions, and set off to find some breakfast, as the hotel didn't have any bread (not really surprising considering the debacle of last night's meal). I also intended on checking out the village of Kalpa, which my book told me was a pleasant place to while away some time. I tried a number of roads, but could find neither the village nor hardly anywhere which had food of any description, let alone bread. I was initially a little confused by the large amount of hotels in the area - and plenty more under construction - when there seem to be no tourists; it makes the place feel like a bit of a ghost town. Then I remembered that the region gets booked out during a big festival in September/October.
Eventually, at two in the afternoon, I found a hotel that could provide me with my desired breakfast or cheese omelette and toast, albeit at a price. My search reminded me that while I might turn my nose up a little at some of the more foreign tourist-orientated, traveller hangouts, they do have their advantages. I spotted the village proper while I ate breakfast, but it had started raining by then, and I'd decided I was over Kalpa. There's a bus to Shimla at 0630 tomorrow that passes right by the hotel, I am informed, and I intend to be on it. I wasn't over enamoured by Shimla last time around, but I am looking forward to relative civilization, and having my mobile and modem work again.
Spiti is a wonderful region, and I'd highly recommend it. I hope to return to Spiti myself one day, but next time I would definitely do the loop in reverse - starting in Shimla, travelling to Rekong Peo (and getting my inner line permit in one of those two places), taking a bus to Tabo and spending the night there, which would help with acclimatization, and then continuing to Kaza. That way I'd save the most beautiful part of the journey, from Kaza to Manali, until last.
---
[ View Guestbook ] [ Sign Guestbook ]
Get a FREE guestbook here!
If you're looking for great stock images, I've got thousands online - check them out!


Visit SerenityPhotography.co.uk, where you can buy beautiful pictures from around the world . . . all taken by yours truly!
---